Capitol Resources – July 26 Committee Hearing on Education
The TIME for ACTION IS NOW!
It's time to let Texas legislators know that parents are taking back the education system in Texas! Here's your chance to make a big difference! If you choose to testify at the committee hearing or just be there for support show up Tuesday, JULY 26th at the Austin Capitol! This email will have A LOT of information, but I wanted to put it all in one place for you.
July 26th AGENDA & Capitol Information. Click on the hearing notice for details. If you want to participate in public comments, you will sign up at the Capitol. Here's a landing page that explains how to register as a witness: https://mytxlegis.capitol.texas.gov/hwrspublic/about.aspx Once you get on the Capitol Wi-Fi, here's the link to register: http://hwrs.house.state.tx.us/
Arrive early to the Capitol to get through security. If you have a CHL then you get to speed through a bit, so bring your CHL if you have it. A few groups and legislators' teams have reserved conference room E2:022 before the hearing. You can meet there if you'd like.
On the 26th, the hearing starts at 10:00 am. Texas Public Policy Foundation will have a FREE lunch and guest speakers from 11:00 am – 1:00 pm. Get the details and register, if you'd like to attend. Their plan is to rejoin the hearing after this event before public comments begin. TPPF's office is 2 blocks away from the Capitol and about a 10-minute walk. Corey DeAngelis will be there and speaking to the education committee! He is a huge school choice advocate!
Important reminders-
Bring water and snacks. Wear comfy shoes! Bring pens and a notepad. As you hear other testimony, you may change yours a bit to follow up on something, or to refute it.

Print out your public comment. Practice it aloud. Time your comments to make sure you're under 3 minutes and prepare for less. Tell your story, use facts, law, etc…If you are reading sexually explicit books, get to the "bad parts". Remember you only have 3 minutes. Our biggest concern is the sexualization of ALL children. This has nothing to do with what sex, race, etc…they are. We want to protect all Texas children. We are not banning books, we want "book boundaries" for ALL children. Age-appropriate books only in school libraries.

Need ideas on what to speak on? TexasEd911.com is a great place to start! We support these legislative priorities and you can speak on these if you'd like.👇🏼 You can also speak to other parental rights like to see all curriculum, disrespected at school board meetings, board trustees need term limits and to be recalled by parents if necessary, eliminating social-emotional learning and CRT in schools, etc…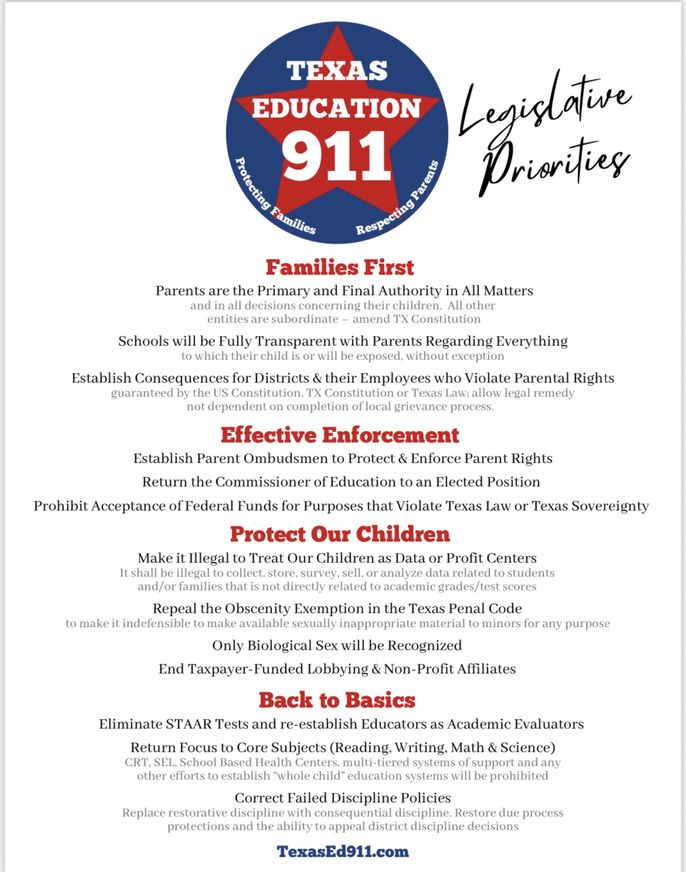 Maps are here, too. If you are looking for a carpool or caravan, email Tara. She may email one more time if additional information comes out and we will try to keep this page current for the day. Please let her know if you have questions. God bless you, all!
Pray🙏🏼